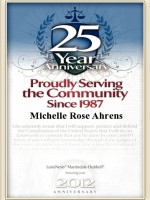 25 Years of Service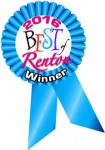 Best of Renton 2016
Michelle grew up in the Mt. Baker neighborhood of Seattle where she attended Franklin High School. An avid sportswoman, she lettered nine times (Franklin was a three year high school) in X-country, swimming and tennis. In her senior year, she was named captain of all three teams and received the sportswoman of the year award for the graduating class of 1978.
She attended the University of Washington where she walked on the tennis team and played for two years. After lettering during her sophomore year, she determined that there was more to life than tennis, and gave up competitive tennis to focus on her studies. She graduated from the U.W. in 1983 with a dual major in Political Science and Speech Communications. Three years later she graduated from the University of Puget, School of Law with her JD.
Michelle began her legal career at the City of Seattle in the prosecutor's office as an intern. She worked there while attending law school and gained valuable trial experience while she was finishing up her degree. After graduation, she moved to the King County Prosecutor's office and spent two year there prosecuting misdemeanors and gross misdemeanors in every district court in the county.
In 1988, Michelle left government work and came to this firm which was, at the time, known as Holm, Mogren and Glessner, P.S. Here, she spent two years learning the ins and outs of criminal defense work, family law and estate planning. In 1990, she left the firm to pursue an opportunity to head up a non-profit organization on the Olympic Peninsula. She and her husband, Ken, a Washington State Trooper, moved to Port Angeles where Michelle was the Area Director for Young Life on the Olympic Peninsula.
In 1996, Michelle returned to the practice of law. She founded her own law firm in 2003 and continued her practice in criminal defense, family law, estate planning and personal injury work. She has previously served as a Judge Pro Tem in Clallam County District Courts in both Port Angeles and Forks, WA. She also served as a Commissioner Pro Tem in Clallam County Superior Court.
Michelle's husband retired from the Washington State Patrol in 2010 and went to work as a Marshall for the City of Seattle. He was recently promoted to Sargeant. The whole family decided to move back to King County in 2012 and Michelle rejoined this firm, now known as Mogren, Glessner & Ahrens, P.S. She continues to practice in the areas of criminal defense, family law, estate planning and personal injury work.
Michelle and her husband have two children who are the delight of their lives. Mary recently graduated from the U.W. and is now employed at a job in her field. Michael is a Lance Corporal in the United States Marine Corps.
Michelle continues to be an avid tennis fan and 2013 she made a trip to London to visit the famed Wimbledon Center Court.  She's also made trips to New York, NY to attend the U.S. Open Championships and Cincinnati, OH to attend the Cincinnati Open where she was able to watch her favorite player, Andy Murray, from the front row. Mr. Murray won that match against Grigor Dimitrov due to her astute coaching at key moments in the match.  Her goal is to someday watch a match at every grand slam tournament.  Today she continues her love of the game serving as a tennis coach at both Rainier Beach High School and South Shore Middle School.  She also serves on the worship team for her church, Emerald City Bible Fellowship.
Memberships
Member, Washington State Bar Association
Member, Federal District Court, member
Member, King County Bar Association
Member, South King County Bar Association
Member, Washington Defender Association
Web Pages:
Franklin High School, 1978 – general diploma
University of Washington – BA – Political Science and Speech Communications
University of Puget Sound, School of Law – Juris Doctor
Former Judge Pro Tem in Clallam County District Court
Former Commissioner Pro Tem in Clallam County Superior Court
Received Distinguished Service Award from Clallam County Pro Bono in 2000
Elected President of the Clallam Bar Association, 2007
Named a finalist in the Best of Peninsula attorney category for the Peninsula Daily News in 2012
Testimonials
… help, guidance and patience

"Michelle  I want to thank you for your help, guidance and patience to me while I was going through my divorce. I was grateful to know you were there to answer my questions, give your advice and guide me through procedures which were unknown to me."

– Jan,  August 2018

… I've more than survived.

Michelle  "I just read an article on Yahoo News about divorce mistakes/outcomes of divorce.  One on the things it talks about is getting the right attorney ….. I did.  Just another thanks for your wisdom and patience during our time working together.  Most of what you said for the outcome/future has happened … and I've more than survived.

– Thomas, January 2013
Our Lawyers
Click on a picture above to go to that attorney's web page.