Mogren, Glessner & Ahrens, P.S.
Celebrating 70 years of wills, estate plans and probate to the Renton Washington community.
Family Law | Criminal Law | Personal Injury | Adoption | Wills | Probate
---
Our law firm consists of experienced lawyers near Renton, King County, Washington, who are knowledgeable in protecting your legal rights under the Washington laws. Our  experience helps us obtain the best results for our clients. Our emphasis includes affordable Renton wills, estate planning and probate, including wills, Washington Community Property Agreement, Durable Power of Attorney, living will and probate.
Please click on the links below for helpful information regarding:
Mogren, Glessner & Ahrens, P.S. just received the 2015 First Place Award as the best law firm in Renton by the Renton Reporter Newspaper. We serve the areas of Skyway, Rolling Hills, Bryn Mawr, Cascade, Fairwood, Newcastle, Cedar Grove, Lake Desire, Soos Creek, Lake Youngs, Renton Highlands, Cougar Mountain,  High Valley, Hobart, Allentown, Rainier Beach, Rainier Valley, Seward Park, Coal Creek, Newport, Crossroads, Factoria, May Valley, Tiger Mountain, Mirrormont, Maple Heights, Covington, Squak Mountain, Ravensdale, The Landing, Gene Coulon, Lake Washington.
Our law firm is conveniently located near Renton, King County, WA, just off the freeway at the intersection of I-405 and I-167, easily accessible from Seattle and Bellevue Washington. Our family law and divorce attorneys represent clients in the greater Renton, Seattle and King County area in the State of Washington.
Please call 425-255-4542 for a brief telephone call with an attorney lawyer near Renton. Our lawyers offer affordable rates for wills and estate plans.
---
100 Evergreen Building
15 S. Grady Way
P.O. Box 90
Renton, WA 98057-0090
Phone: (425) 255-4542
Fax: (425) 255-7322
Office Hours 9:00 a.m. to 5:30 p.m.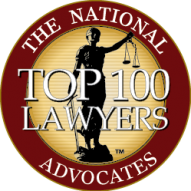 Top 100 Lawyers