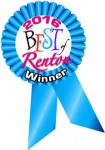 Best of Renton 2016
Memberships
Member, Washington State Bar Association
Member, Federal District Court, member
Member, King County Bar Association
Member, South King County Bar Association
Member, Washington Defender Association
Web Pages:
Franklin High School, 1978 – general diploma
University of Washington – BA – Political Science and Speech Communications
University of Puget Sound, School of Law – Juris Doctor
Former Judge Pro Tem in Clallam County District Court
Former Commissioner Pro Tem in Clallam County Superior Court
Testimonials
… help, guidance and patience

"Michelle  I want to thank you for your help, guidance and patience to me while I was going through my divorce. I was grateful to know you were there to answer my questions, give your advice and guide me through procedures which were unknown to me."

– Jan,  August 2018

… I've more than survived.

Michelle  "I just read an article on Yahoo News about divorce mistakes/outcomes of divorce.  One on the things it talks about is getting the right attorney ….. I did.  Just another thanks for your wisdom and patience during our time working together.  Most of what you said for the outcome/future has happened … and I've more than survived.

– Thomas, January 2013
Our Lawyers
Click on a picture above to go to that attorney's web page.